Governance and company profile

About PSEG
Company Overview
Public Service Enterprise Group Incorporated (PSEG) is New Jersey's largest provider of electric and gas service, serving 2.2 million electric customers and 1.8 million gas customers, approximately 70 percent of the state's population. We also own and operate an 11,500-megawatt fleet of power plants in the Northeast and Mid-Atlantic regions of the United States. We have been recognized not only for outstanding reliability, but also for our renewable solar energy and energy efficiency efforts. PSEG has been named to the Dow Jones Sustainability North America Index for 11 consecutive years. In 2016, PSEG was named to the first-ever Forbes "Just 100" list of companies celebrated as exemplary corporate citizens. PSEG is a publicly traded (NYSE: PEG) diversified energy company among the nation's leading utilities with approximately $40 billion in assets and a member of the Standard and Poor's 500. Our headquarters are in Newark, New Jersey. PSEG's principle operating subsidiaries are Public Service Electric and Gas Company (PSE&G), PSEG Power LLC (PSEG Power) and PSEG Long Island LLC.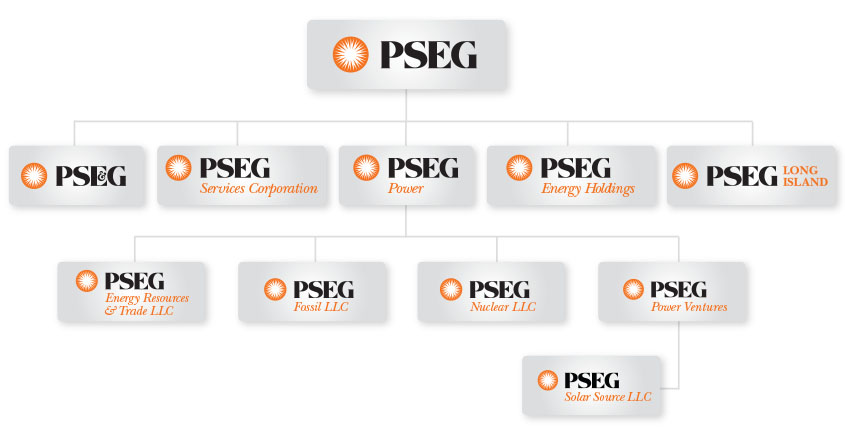 Public Service Electric and Gas Company (PSE&G)
Public Service Electric and Gas Company is a regulated public utility company engaged in the transmission and distribution of gas and electricity. One of the largest combined electric and gas companies in the United States, PSE&G is also New Jersey's oldest and largest publicly owned utility. The Public Service Corporation was formed in 1903 by amalgamating more than 400 gas, electric and transportation companies in New Jersey; it was renamed Public Service Electric and Gas Company in 1948. PSE&G currently serves nearly three quarters of New Jersey's population in a service area consisting of a 2,600-square-mile diagonal corridor from Bergen to Gloucester counties. PSE&G is the largest provider of gas and electric service, servicing 1.8 million gas customers and 2.2 million electric customers in more than 300 urban, suburban and rural communities, including New Jersey's six largest cities.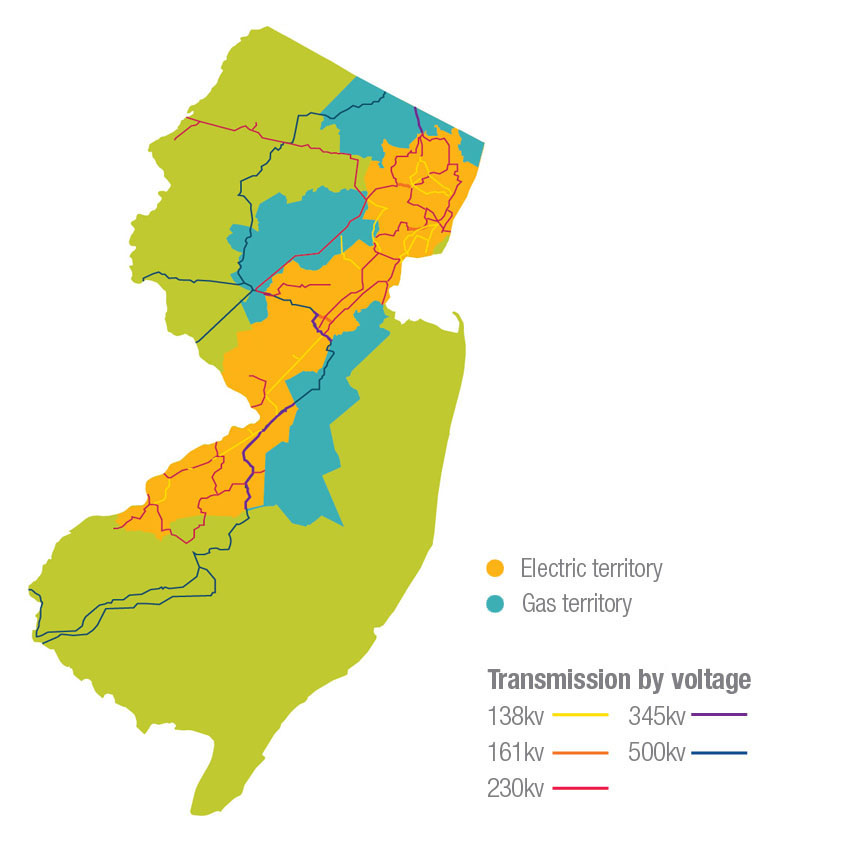 PSEG Power
A major independent power producer in the U.S., PSEG Power operates one of the most balanced portfolios in the country, both in terms of fuel mix and market segment (base load, load following and peaking), which helps us generate the power our customers need, when they need it. PSEG Power also is focused on transforming its generating fleet with reliable, efficient and cleaner energy, nearing the completion of its 1,800 MW construction program of new gas-fired combined-cycle generation at three sites. New plants in Sewaren, New Jersey, and Prince George's County, Maryland, were placed in service in 2018. The third, in Bridgeport, Connecticut, is expected to come online in 2019.
PSEG Fossil operates the company's portfolio of natural gas, coal and oil-fired electric generating units.
PSEG Nuclear operates the Salem and Hope Creek Nuclear Generating Stations in Lower Alloways Creek, New Jersey, and is a part-owner of the Peach Bottom Nuclear Generation Station in Delta, Pennsylvania.
PSEG Energy Resources & Trade
PSEG Power Ventures
PSEG Solar Source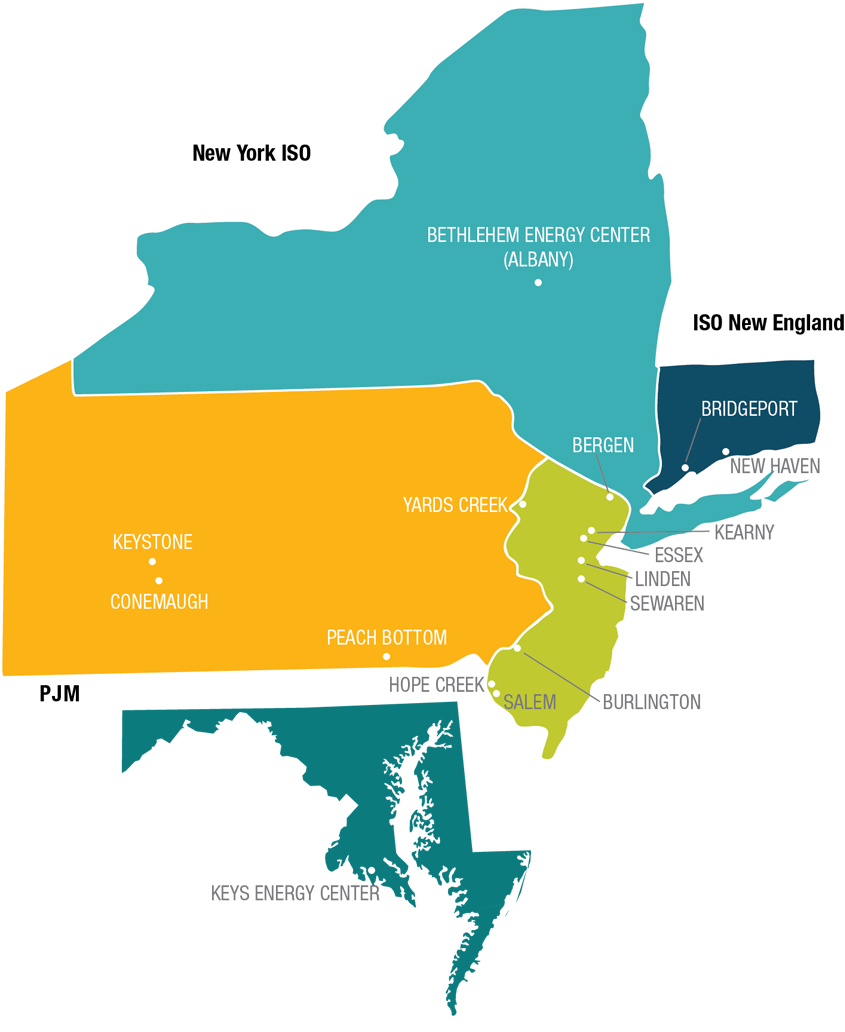 PSEG Long Island
PSEG Long Island operates the electric transmission and distribution system of the Long Island Power Authority (LIPA), serving approximately
1.1 million customers in Nassau and Suffolk counties and the Rockaway peninsula of Queens, New York. PSEG Long Island began operations on January 1, 2014, under a 12-year agreement. In January 2015, PSEG Power began providing fuel procurement and power management services for LIPA under a separate agreement. PSEG Long Island has committed to improving processes and public perception with the goal of becoming a best-in-class electric utility.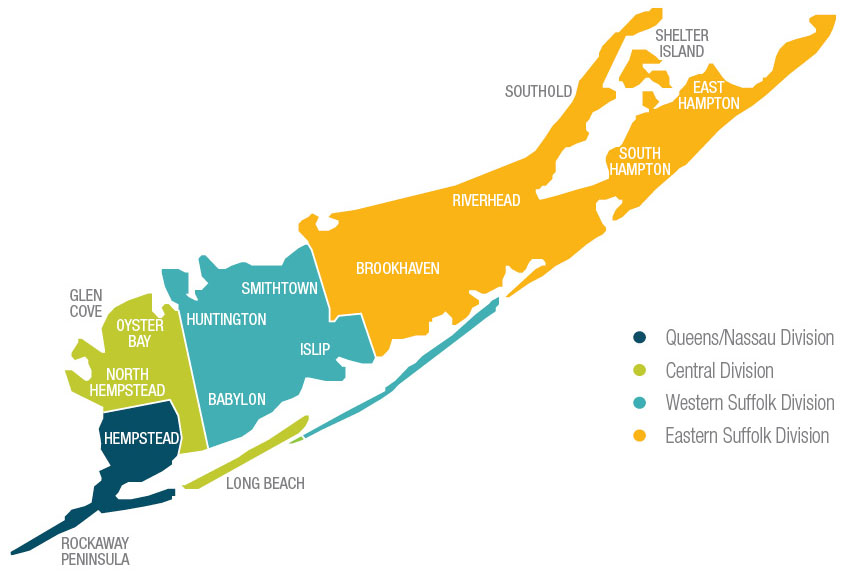 PSEG's Vision, Strategy, Commitments
This year marks PSEG's 115th year as a company, a testament to the sustainability of our business model that benefits our customers, our shareholders and the communities we serve. PSEG's vision is to be a recognized leader for safe, reliable, economic and greener energy – today and for our next 115 years – a vision that expresses he value of who we are and what we have been throughout our long history.
To achieve this vision and ensure sustainability, PSEG has long pursued a business strategy based on operational excellence, financial strength and disciplined investment. We emphasize sound fundamentals in executing our strategy, including through our efforts to:
Improve utility operations by increasing our investments in transmission and distribution infrastructure projects designed to enhance system reliability and resiliency, meet our customers' expectations and support public policy objectives;
Maintain and expand a reliable, efficient and environmentally responsible generation fleet with the flexibility to utilize a diverse mix of fuels, allowing us to respond to market volatility and capitalize on opportunities; and
Sustain a solid financial profile capable of meeting our growth objectives.
Reinforcing Our Core Commitments
PSEG has a long history of ethical behavior on which we have built our business and earned the trust of those we serve. A good name is more than a source of pride; it gives us credibility in the marketplace, in the communities where we work and among current and potential employees.
In a changing business climate, we recognize the importance of constantly reinforcing the guiding principles that we stand for and live by, in all we do as a company and in the behaviors and actions of our 13,000 employees. We recently strengthened our already robust compliance program with the addition of a new chief compliance officer. We emphasize five Core Commitments:
Safety
Integrity
Continuous Improvement
Diversity & Inclusion
Customer Service

Standards and values guide the company
Our standards go beyond integrity. Reflecting this, we adopted a new name – the PSEG Standards of Conduct – to emphasize that our standards represent how we conduct ourselves in the way we do business.
The PSEG Standards of Conduct and Core Commitments form the foundation of our ethics program.
PSEG is committed to conducting operations in accordance with the highest ethical standards and in compliance with the law. We require every employee and contractor to uphold our commitments and standards to work with PSEG.
The PSEG Standards of Conduct, reviewed and approved by the PSEG Board of Directors, describes the company's expectation of employee and contractor conduct in the workplace. Our Standards of Conduct set common expectations for interaction with investors, customers, coworkers, competitors, vendors, government officials, the media and others. Our entire staff of management, administrative, supervisory and technical associates must complete training on the Standards of Conduct and results are reported to the Audit Committee of the Board of Directors annually. We ensure accountability by defining responsibility, reporting breaches, tracking results and responding to issues.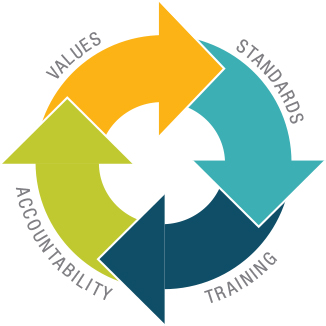 Corporate Governance
Through the oversight of our Board of Directors, guided by our Corporate Governance Principles and the Standards of Conduct, we have established a leadership structure to effectively manage our business, focusing on operational excellence, financial strength and disciplined investment. Our risk management program forms an integral part of our corporate culture, along with the core values of safety, diversity and transparency.
Good governance promotes accountability and trust in our company. We have adopted what we believe are strong corporate governance standards and practices to assure effective management by our executives and oversight by our Board of Directors.
Our Corporate Governance Principles and the charters of our board committees emphasize the independence and responsibilities of our outside directors. These are outlined in detail in our proxy statement, together with the skills and qualification of each member of our board. Read more about our board's committees and charters.
Engaging Our Stakeholders
Building strong relationships with our stakeholders is essential to maintain a high level of trust, understanding and service. We engage with stakeholders in various ways that accommodate their needs and find that we learn a lot in the process. Connecting with our customers, investors, employees, communities, government officials, regulators and suppliers helps us run a better business to meet environmental and social expectations.
Some of our stakeholder interests overlap and some compete, so we have been striving to take a proactive approach that reaches out to:
Educate stakeholders on our operations;
Support and engage in local community activities, initiatives, and betterment programs;
Respond openly and immediately to stakeholder concerns about construction, design, operation and environmental compliance of our operations; and
Give stakeholders a voice in decisions that could impact them.

Our Regional Public Affairs managers are an important face of stakeholder engagement in each region of our utility service area. They are trained and experienced in addressing public concerns and facilitating public hearings for stakeholders. They manage each step of stakeholder engagement and make critical decisions to continually improve our stakeholder engagement practices.

PSEG Stakeholder Engagement Council

In 2015, PSEG established its Stakeholder Engagement Council. Governed by a charter, the council is led by an executive from our External Affairs organization and includes representatives from different parts of the company. The role of the council is to consider key issues the company is facing (short- and long-term), while also considering the interests and concerns of our key stakeholder groups and devising engagement strategies to find common denominators and design mutually beneficial strategies.

Ways we Engage Specific Stakeholders

Accountability is one of PSEG's most important core values, informing our efforts to build even stronger stakeholder relationships. We recognize that our credibility ultimately depends not on words but on deeds - on living up to our commitments and taking responsibility for our actions and results.

The importance of maintaining good, transparent lines of communications with our stakeholders cannot be overemphasized. Our experience is that different stakeholder groups prefer to communicate in different ways. We provide numerous channels tailored to the needs of each group for our stakeholders to communicate their interests and help us address issues or concerns.