Giving back to our communities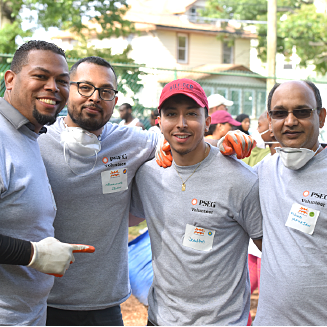 In September 2018, dozens of ready-to-work volunteers – including more than 70 PSEG employees – arrived in Paterson, N.J. with an ambitious goal: In just a few hours, to build an entire playground on what had previously been an empty corner of Westside Park.
It's hard work. Volunteers are asked to pitch in on a variety of tasks, from assembly to construction to landscaping to clean-up.
But when the work is finished, a neighborhood's children have a brand-new space for play.
The Paterson playground is PSEG's sixth such project in cooperation with the Kaboom! organization. In addition to volunteer hours, the PSEG Foundation contributed $97,000 to the effort.
It's also an example of PSEG's culture of volunteerism and commitment to community investment.
For PSEG, public service is synonymous with who we are – it's part of our name. We're more than just PSEG employees. We're the friends, neighbors and family members you connect with every day. We recognize the importance of being active participants in our community and giving back where it is needed most.
Each year, our employees continue to show their generosity and commitment to our communities – donating thousands of volunteer hours and tens of thousands of dollars to organizations throughout New Jersey and Long Island. PSEG supports their charitable contributions by matching employees' gifts to nonprofit community organizations and schools.
Employees can receive matching gifts to qualified 501(c)(3) organizations for charitable contributions up to $2,500, and educational matching gifts up to $5,000 and in 2017, PSEG matched more than $819,000. Employees can also receive up to $1,000 per year in volunteer grants for qualified 501(c)(3) organizations, which include youth sports groups, and veterans, fire and rescue organizations. In 2017, the company provided volunteer grants totaling more than $84,000.
More importantly, our employees volunteer their time and talent every day to help build stronger communities. These volunteer efforts are supported by the PSEG Foundation, which provides additional assistance for hundreds of community groups and schools throughout the region. This includes programs that build and sustain neighborhoods, protect our environment, encourage Science, Technology, Engineering and Math (STEM) careers and so much more.
PSEG's diversity and inclusion efforts also include dozens of employee business resource groups (EBRGS) where employees with common interests can join together to celebrate their culture and experiences. From ethnic heritage to young professionals to military veterans, there's a group for everyone and an opportunity to work together for our business and more importantly our communities.
For more than a century, PSEG's success has been the direct result of our dedicated employees who work around the clock to keep the power flowing for New Jersey and the region. This diverse group of people is more than just an office assistant, lineman or plant operator. Each day, they represent dozens of different cultures and backgrounds that make PSEG a great place to work. This wealth of knowledge and viewpoints leads to informative discussions and ways to improve our business. All employees are encouraged to speak up and expected to challenge the status quo.
For PSEG and its employees, it's not just where we do business – it's also our home too.
Diversity & Inclusion as a business imperative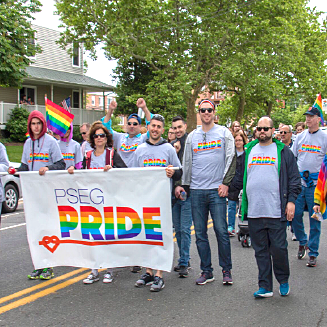 Diversity & Inclusion makes things work for our employees, our business operations, our customers and our community. Providing energy and energy services to some of the most diverse communities in the nation is an important distinction for PSEG. As responsible corporate citizens and leaders in the energy field, we know that reflecting, valuing and leveraging diversity & inclusion means we can continue to attract different people with different minds who bring us better ideas and the best solutions.
During the past year, we have continued to solidify our commitment to live by these principles.
PSEG Chairman, President and CEO Ralph Izzo joined hundreds of leaders of the world's leading companies and business organizations in signing of the CEO Action for Diversity and InclusionTM commitment – pledging to leverage their individual and collective voices to advance diversity and inclusion in the workplace.
Within PSEG, we named a new Chief Diversity Officer who also oversees the company's community involvement as Senior Director-PSEG Corporate Citizenship and Culture.
Since then, we also have created a scorecard to more deeply understand our current state and set clear goals. The scorecard measures performance in areas such as diversity in recruitment and hiring, promotions and development program participation.
We doubled up on building our awareness and skills. We launched an online training library of topics ranging from emotional intelligence to cohesive teamwork. And we conducted in-person teaching sessions on fostering a harassment-free workplace and understanding implicit biases.
We continued to build grassroots engagement with ongoing to support of Employee Business Resource Groups centered on interests, including age and ethnicity. They provide a drumbeat of information, events and support across the company, helping to build a more welcoming workplace.
And externally, we also have continued our robust efforts in growing supplier diversity and outreach, including giving by our PSEG Foundation.
Additional efforts include:
The PSEG Foundation invests 33 percent of its grant-making to diversity and inclusion, and invests deeply in urban communities, including Newark, home of PSEG headquarters for 115 years.
PSEG earned a score of 100 on the LGBTQ-focused Human Rights Council Corporate Equality Index in 2017.
PSEG enforces a zero-tolerance policy on harassment and fosters a culture of accountability, empathy and knowledge.
Of the $2.1 billion worth of business conducted with other New Jersey-based companies, $532 million was spent with minority-, women- and veteran-owned suppliers – representing close to 19 percent of PSEG's total supplier spend, a more-than-300 percent increase over the last decade and a new all-time high.
The culmination of our 2018 efforts is a PSEG Diversity and Inclusion Summit, with PSEG's 200 top executives alongside 150 diversity & inclusion culture ambassadors across all levels of PSEG – as well as a cohort of special local guests. The event is an opportunity to hear from our leaders and prominent external stakeholders about the business imperative of diversity and inclusion, and the leadership and understanding it will take to proudly honor our dedicated, resilient – and often heroic – teams, while also courageously and openly transforming our culture.
PSEG has received various recognition for our efforts to date, including being named to Forbes' 2018 list of American's Best Employers for Diversity. And our efforts to further evolve will continue throughout next year and beyond.
Talent & Rewards
PSEG is a company with strong ethical values and a deep commitment to its employees. We understand that our success ultimately depends on our ongoing ability to attract, develop and retain a highly skilled, diverse and engaged workforce. We advocate the continuous improvement of operations through a culture that recognizes the value of diversity and inclusion and where all employees are engaged and comfortable speaking up. Indeed, our people are the key to achieving operational excellence in providing safe, reliable, economic and greener energy.
Each year, we review our people strategy to ensure we have the initiatives in place to deliver on the enterprise strategic goals. PSEG promotes an environment where employees develop and utilize skills, feel comfortable sharing their ideas and concerns, and directly support the achievement of key business objectives. We continue to invest in our human capital to meet business challenges and are confident that these efforts contribute to a high-performance culture.
Employee engagement is an important part of our journey to continuously improve as a company. Our engagement initiatives focus on issues such as comfort in speaking up, building employee capabilities through our People Strong curriculum, and fostering diversity and inclusion to ensure we move forward effectively as one team. We want to build a culture where everyone not only contributes, but also feels valued and appreciated, and has a range of opportunities for growth and development.
We identify and manage numerous risks and opportunities through our people strategy. This is evidenced in our commitment of maintaining employee and public safety, good relations with our labor unions and a highly engaged workforce.
To maintain engagement, we keep our employees informed through a variety of communication forums. The PSEG intranet (myPSEG) provides employees with a wide range of helpful information on their total rewards package including salary and benefits, retirement plans and services. We maintain an electronic catalog of policies, practices and procedures so employees know exactly how to excel. Internally, public information is communicated through myPSEG, daily Outlook Online emails and PSEG Outlook, our employee newsmagazine. In addition, our frontline supervisors and management teams routinely convey information of importance to our workforce.
People select companies that share their values. We find that job candidates are drawn to us because of our reliability, reputation and core commitments including safety, integrity, diversity and inclusion, customer focus and aspire to achieve excellence in all we do through continuous improvement initiatives; along with our clean energy initiatives, environmental stewardship and community role. PSEG has provided opportunities for our employees to grow with us for over 115 years, and we will continue to foster a workplace environment that contributes to this success.
TOTAL REWARDS
Taking great care of our customers starts with making sure we take great care of our employees. We continually strive to provide our employees with a market competitive total rewards package supporting our strategic objective to attract, retain and develop a high-performing and diverse workforce.
We conduct market research and analysis and adjust our reward programs periodically to ensure we remain competitive with the external marketplace. Our comprehensive rewards package empowers employees to be their best. Learn more about PSEG's benefits.
Lifestyle and employee wellbeing are essential to a safe and high-performance culture. PSEG recognizes the importance of offering comprehensive benefits to our employees and dependents. PSEG makes available additional services beyond traditional benefits to support and encourages employee wellbeing through physical, emotional, financial and social health. Our Be Well program focuses on employee risk factors that impact our employees' performance and drive health care costs. We offer a variety of programs to support employee wellbeing which include on-site fitness centers, health screenings, customized weight loss programs, walking challenges and incentives. A strong corporate wellness council, consisting of various union and management personnel, has played a significant role in promoting employee wellbeing and related programs. These resources are available to all full-time employees.
Community Investment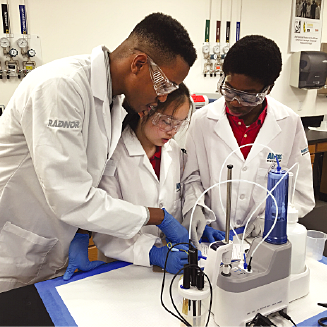 In 2012, Superstorm Sandy cut brutally across New Jersey and New York with a surge of wind and water that devastated coastal communities. At one point, 90 percent of PSE&G's electric customers found themselves without power. Homes were moved off their foundations. Electric infrastructure was, in some places, beyond repair.
Spurred by their experience with Sandy, students at Stevens Institute of Technology – starting with only an ordinary shipping container – designed and built a prototype for a new kind of sustainable, resilient home meant to withstand the threats of rising sea levels and survive increasingly damaging storms.
The Stevens team – a mix of students with experience in engineering, energy efficiency, architecture, business, communications, management and computer science, and guided by the university's expert faculty – created the SURE House, a structure designed to be both sustainable and resilient in the face of a changing climate.
The students' efforts earned national recognition for themselves and for Stevens, winning the U.S. Energy Department's Solar Decathlon against students from the U.S. and around the world.
The SURE House is the product of a funding partnership that links PSEG with Stevens – a partnership that produces benefits far beyond our organization.
The PSEG Foundation provided $325,000 to support development of the Stevens SURE House. The PSEG Foundation also granted $1.5 million to Stevens in support of research focused on energy conversion and storage. These programs strengthen middle- and high school STEM education.
The foundation's financial contributions to Stevens are part of the more than $8 million invested each year the vitality of our state and communities where PSEG does business. The PSEG Foundation provides funding for programs in three key areas: STEM and Workforce Development (37 percent), Sustainable Neighborhoods (49 percent), and Safety and Disaster Preparedness (14 percent). More than 33 percent of all PSEG Foundation grant-making supports diversity and inclusion objectives.
Key funding initiatives include:
STEM education: The PSEG Foundation supports the New Jersey Institute of Technology 2018 Solar Car Team - the university's first-ever, full-size, solar-powered electric vehicle to compete in the 2,000-mile "American Solar Challenge" competition to design, build, and drive solar-powered cars in a cross-country, time/distance rally event. The team has more than 60 members in 21 majors.
Sustainable neighborhoods: The PSEG Institute of Sustainability Studies at Montclair State University (MSU) provides program support for sustainable communities and businesses that complement the Sustainable Jersey program. PSEG's $1.3 million funding is matched to provide internship opportunities to students from MSU and other New Jersey universities.
Safety: With Sesame Workshop, the PSEG Foundation supported the creation of an emergency preparedness program, "Let's Get Ready," and an emergency response program, "Here for Each Other" ($1.3 million). The programs provide materials in English and Spanish for families, community leaders and educators. Materials are online for easy access and include workbooks about creating an emergency plan, videos, a free app and teacher instruction.
Sesame Workshop and PSEG Foundation's new 2018-19 program, "Brave, Strong, Resilient," ($900,000) seeks to build resiliency in children and families with curriculum to help children explore and express their feelings, practice problem-solving strategies and develop patience and confidence.
In 2018, the PSEG Foundation also is developing plans to launch a stakeholder engagement and planning process to initiate a five-year, $5 million Signature Initiative.
A firm commitment to New Jersey for 115 years and to the communities served by PSEG is embodied in our name, Public Service. Many things have changed since our founding, but our unwavering commitment to the community – both by the company and by our employees – has remained a constant.
The link between safety, health and wellness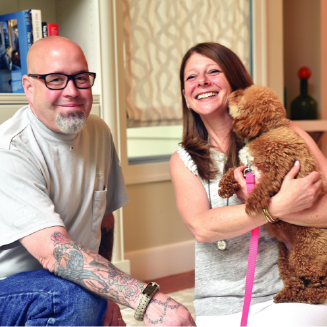 In May 2018, Vaughn Stanziale was running weekend errands when a powerful springtime storm struck northern New Jersey, fueled by strong winds that brought down trees and power lines. As Stanziale passed through a grocery store parking lot, he spotted a frightening sight – power lines had fallen across a SUV, with the driver still behind the wheel.
Stanziale, a PSE&G Service Technician, ran from his own vehicle and called to the driver to stay inside her car. He knew that downed power lines might still be energized, and that inside the car was the safest place to be until utility crews could arrive and de-energize the lines.
The car's driver – Lauren Feldman of Livingston, N.J. – was grateful for Stanziale's quick thinking, which may have saved her life. Stanziale stayed on the scene until crews arrived to help her exit the car safely.
"I'll never forget looking out of my car window and seeing (Stanziale) and thinking, 'I am so happy he stayed,'" Feldman said.
Safety is PSEG's No. 1 priority – and we're proud of the safety culture we have created throughout our organization. Vaughn Stanziale's selfless response demonstrates the value of a culture that encourages safe behavior not only on the job but outside the workplace, as well.
In 2018, PSEG marked the 20th anniversary of its Health & Safety Councils, the foundation of the company's safety culture. Working together, our company's leadership and its dedicated workforce committed themselves to strengthening the safety culture of PSEG. Read our Health and Safety Commitment.
As a result, over the years our safety record has shown steady improvement, with declines both in the frequency of injuries, as well as the severity. The previous two years have been the safest in PSEG's history – establishing new record lows for OSHA-reportable incidents in 2016 and 2017.
As we continue to build on our health and safety culture, we aim to achieve our vision of Target Zero – where no one gets hurt – through a strong commitment to continuous improvement and employee involvement. We have begun to expand our efforts into areas such as driver safety and eliminating distracted driving; contractor safety and ensuring that PSEG's safety culture extends to all who share our workplaces.
We also are increasingly aware of the role that an employee's well-being plays in maintaining a safe work environment. Personal health is a driver of how an employee performs at work. Moving forward, we will aggressively continue to integrate safety and personal wellness and we will concentrate on the prevention of work-related injuries through improvement in our physical, mental, emotional, social and financial well-being.
Learn more about our Health and Safety Systems.
Human Rights:
PSEG recently put in place a human rights practice that underscores our commitment to minimize any adverse effects our operations may have on people or communities. This new practice, along with other policies such the employee proposition, reaffirms our commitment towards ethical behavior and shows how that commitment starts from within. The practice was developed using the United Nations' Guiding Principles on Business and Human Rights as a reference and if an employee, business partner, supplier, customer or other stakeholder witnesses or learns of any incident that may involve a violation of our human rights practice, they can report it, anonymously if desired, to the company's Office of Ethics & Compliance at: ethics.compliance@pseg.com or hotline: 973-430-6405.