Greening the energy future

Responding to the challenge of climate change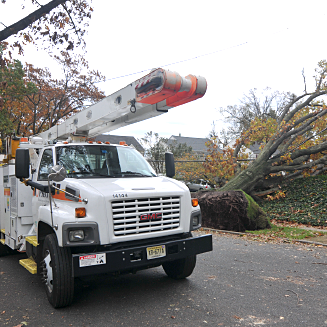 PSEG has recognized for several decades that climate change is a real phenomenon that impacts our planet. Inclusion of climate change in our business plans has been a part of the PSEG culture since 1990. PSEG recognizes that there is no simple or short-term solution to address both mitigation and adaptation of global climate change. As new challenges arise, we have adapted our business plans to develop cost-effective solutions to meet these challenges.
New Jersey has been in the forefront on energy evolution. The state published its first Energy Master Plan (EMP) in 1991. The development of the EMP included input from a diverse group of stakeholders, including PSEG. The plan included policy positions and implementation strategies to meet the state's energy requirements through 2000. One of the initial state energy policy goals was "to protect our environment through wise and efficient energy use." In particular, the EMP encouraged the development of cost-effective solar energy and demand-side energy efficiency. PSEG embraced the goals of the EMP and actively sought actions to support these goals.
In parallel, the United States embraced a leadership role in developing strategies to address climate change when it signed onto the United Nations Framework Convention on Climate Change (UNFCCC) in 1992. The objective of the UNFCCC treaty was to stabilize greenhouse gas emissions to 1990 levels by 2000. PSEG accepted the challenge and was the first electric utility in the United States to volunteer to participate in President Clinton's Climate Challenge Program in 1993. Our participation in the Climate Challenge Program was one mechanism to support New Jersey's goals under the EMP. We successfully met this goal and stabilized our carbon dioxide emissions from our New Jersey plants to 1990 levels by 2000.
PSEG sought additional opportunities to reduce our carbon footprint. PSE&G signed on to EPA's voluntary Natural Gas STAR Program in 1993. The Natural Gas STAR Program is designed to promote the implementation of cost-effective technologies and practices to reduce CH4 emissions. Also, PSEG joined EPA's WasteWise Program in 1995. Under this program, partners demonstrate how they reduce waste and incorporate sustainable materials management into their waste-handling processes. The program provides a tool to calculate GHG emission reductions associated with recycling and waste-minimization activities. PSEG's recycling rates have consistently exceeded 90 percent.
Since the UNFCCC was founded, member countries have continued to meet annually to assess progress. In December 1997, the members reached agreement on the Kyoto Protocol on Climate Change. The Clinton Administration committed to a requirement to reduce total emissions on average of 7 percent below 1990 levels; however, Congress never ratified the treaty. Nevertheless, PSEG continued to acknowledge the electric utility industry's need to play a leadership role in developing national strategies to address climate change. Building on the success of the Global Climate Challenge Program, PSEG joined EPA's Climate Leaders program in 2002 to reduce the six greenhouse gases covered under the Kyoto Protocol – carbon dioxide (CO2), methane (CH4), nitrous oxide (N2O), hydrofluorocarbons (HFCs), perfluorocarbons (PFCs) and sulfur hexafluoride (SF6). Under this program, PSEG committed to reduce its CO2-equivalent GHG emissions on a pound-per-megawatt-hour basis by 18 percent from 2000 levels by Dec. 31, 2008. PSEG surpassed this goal by achieving a 31 percent reduction, due primarily to the fact that more than half our power comes from nuclear generation.
New Jersey continued to be a leader in addressing climate change. Gov. Jon Corzine issued an Executive Order which, established goals to reduce GHG emissions by 80 percent below 2006 levels by 2050. The passage of the Global Warming Response Act of 2007 supports implementation of key elements of the executive order. As a leader in the energy industry and responsible corporate citizen, PSEG established a new goal of reducing economy-wide GHG emissions by 25 percent from 2005 levels by 2025. PSEG met this goal 14 years ahead of schedule. We achieved this goal through implementation of energy efficiency programs, deployment of renewable energy, increasing nuclear output and building clean, efficient natural gas plants. This transformation of the energy business in a cost-effective manner requires heightened collaboration with the state. Energy companies can deploy capital over the long term to ensure conservation and renewable energy gains are sustained. Funding mechanisms are necessary to ensure utilities realize a fair return on investments. During this time, PSEG implemented the following:
Received approval from NJBPU for PSE&G's Solar Loan Program which aids businesses and homeowners in financing solar panel installations
Investment in grid-connected solar capacity outside of PSE&G's territory
Received approval from NJBPU for several targeted energy efficiency programs
Residential Whole House Efficiency Program
Direct Install Program (PSE&G's Energy Saver Program) for Small Businesses, Government Facilities and Non-Profits
Residential Multifamily Housing Program
Received approval from NPBPU to replace portions of PSE&G's old cast-iron and unprotected steel gas mains (Gas System Modernization Program)
Replacement of auto fleet with hybrids and introduced the nation's first hybrid bucket trucks
Implemented employee workplace charging programs for PSEG employees and other employers in the PSE&G territory; and
Lowered our carbon footprint by making several of our facilities more energy efficient through utilization of the U.S. Green Building Council's Leadership in Energy and Environmental Design rating system
In 2012, New Jersey was hit by Superstorm Sandy. The storm's ferocity revealed the vulnerability of our infrastructure to damage from severe storms. This event prompted PSEG to consider climate change adaptation into our business plans in addition to mitigation. PSE&G received approval from NJBPU to invest in resilient electricity and natural gas infrastructure in the wake of Superstorm Sandy (Energy Strong program).
In 2016, PSE&G became a founding partner of EPA's Natural Gas STAR Methane Challenge by committing to replace 1.5 percent of PSEG's cast-iron gas mains and associated service lines by 2021.
Thanks to a pioneer partnership between PSE&G, Environmental Defense Fund (EDF), Google Earth and Colorado State University, we have been able to benefit from the use of advanced methane detection technology to prioritize pipeline replacement efforts. By using that data to help plan gas line replacement efforts, PSE&G was able to reduce methane emissions more quickly, by replacing significantly fewer miles of gas lines than would have been necessary to achieve the same emissions savings. The effort was part of a three year, $905 million program approved by the New Jersey Board of Public Utilities in November 2015. As we move ahead with the implementation of the Gas System Modernization Program II, PSE&G is continuing the use of this technology in support of replacement planning prioritization. To learn more about our partnership, results and the Impact of leak flow rate on gas line replacement priority, click here.
In 2017, we closed our two remaining New Jersey coal-burning power plants. Our coal-fired unit in Connecticut is schedule to retire in 2021. At the same time, we are constructing three new power plants – one each in both New Jersey and Maryland, which opened in 2018, and a third in Connecticut, expected to open in 2019 – that each will use highly efficient, natural gas-fired combined-cycle technology. As we continue this transformation of our power business, emissions levels of NOx and SO2 as well as CO2 and other pollutants will be reduced from our 2005 baseline, along with residuals from the coal-burning process and the need to employ chemicals to treat them.
PSEG is New Jersey's leading developer of renewable energy – having spent more than $1.7 billion to develop large-scale, grid-connected solar projects in New Jersey and around the U.S., as well as providing loans to help customers finance solar capacity on homes and businesses. We also support New Jersey Gov. Phil Murphy's efforts to develop 3,500 megawatts of offshore wind resources.
In early 2018, PSEG announced its new goal of eliminating 13 million metric tons of CO2-equivalent (MMTCO2e) by 2030 from 2005 levels. Our new goal expands upon our previous reduction goals and includes activities that avoid GHG emissions. The new goal includes the following actions:
Accounting for avoided emissions from the post-2005 uprates at our nuclear facilities
Retirement of our New Jersey and Connecticut coal plants
Efficiency upgrades of our existing natural gas combined-cycle fleet
PSE&G's Gas System Modernization Program, which will begin a five-year second phase in 2019, replacing aging cast-iron and unprotected steel natural gas infrastructure with new, more durable plastics to reduce leaks of methane
Continued replacement of traditional fleet vehicles with hybrid vehicles and the installation of idle mitigation technology on fleet vehicles
Solar and energy efficiency investments and programs
Electric vehicle charging programs for our employees and our commercial/industrial customers
Recycling of industrial waste under EPA's Waste Wise program
Emission reductions in fulfilling PSEG Power's REC commitments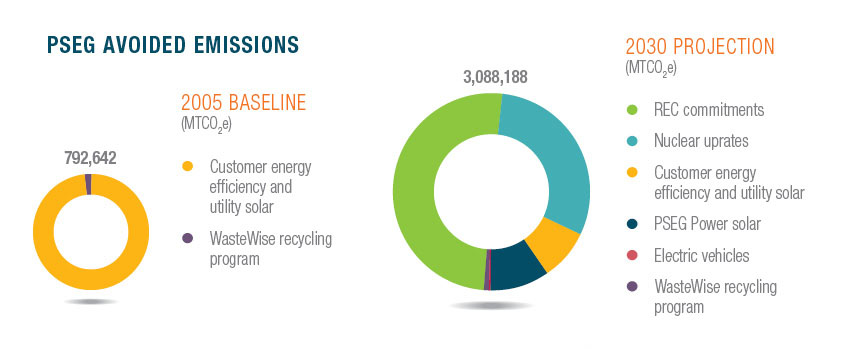 PSEG believes that there are tremendous opportunities to further reduce GHG emissions through energy efficiency programs, but it will require a new regulatory compact. Energy utility companies are uniquely positioned to lead in the effort to deploy more energy efficiency programs. PSEG can achieve this by investing in energy-saving appliances and fixtures, all while receiving appropriate compensation for encouraging smart energy use. With the right economic incentives, energy efficiency can be a much larger contributor to our low-carbon future.
In September 2018, PSE&G filed a comprehensive Clean Energy Future proposal with the NJBPU that included the largest energy efficiency program in the history of New Jersey. As a part of this filing, PSE&G is seeking NJBPU approval of a rate design change, called the Green Enabling Mechanism (GEM). This is a proposal to decouple revenues from sales volumes and thereby encourage energy efficiency. If approved, the GEM will remove the incentive to sell more energy and will instead encourage utility investments in energy efficiency, renewables and other clean energy technologies that will ultimately benefit all customers by bringing down bills and reducing emissions.
The Clean Energy Future proposal contains four components:
The Clean Energy Future filings have the potential to more than double our new carbon-reduction goal upon approval by the New Jersey Board of Public Utilities.
Experience has shown us that developing and implementing integrated energy and environmental policies to achieve the necessary deep reductions in GHG emissions to properly address climate change requires leadership and a long-term commitment. As stated above, we have adapted our business plans to meet the short-term goals to implement cost-effective measures to mitigate and adapt to climate change. However, PSEG maintains that a national solution is required to achieve significant emission reductions. Through the years PSEG has supported implementation of an economy-wide price on carbon. PSEG has been and continues to be ready to partner with state, regional and federal representatives to tackle the greatest environmental challenge of our time.
Preserving nuclear as a clean energy leader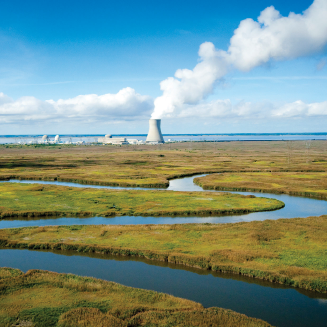 Preserving nuclear as a clean energy leader PSEG's longstanding history of generating clean energy and protecting our environment is made possible by our Salem and Hope Creek nuclear plants in Lower Alloways Creek, New Jersey, and part-ownership of the Peach Bottom nuclear plant in Delta, Pennsylvania. As the second-largest commercial nuclear generating facility in the country, the Salem and Hope Creek plants' ability to provide power 24/7 has a significant impact on New Jersey and the region. In addition to providing nearly half of New Jersey's electricity, the plants play a key role in supporting its clean energy goals. In New Jersey, more than 90 percent of the state's emissions-free power generation comes from nuclear energy. This benefits the environment, including the air we breathe, by helping to avoid harmful emissions that contribute to climate change and public health issues.
During the past year, the New Jersey Legislature and Governor Phil Murphy recognized nuclear power's vital role in the state's clean energy policy, passing Zero Emissions Certificate legislation that will help ensure that Nuclear Power remains an important component of NJ's energy supply. In 2019, the State will select the plants that would be eligible to receive this incentive.
New Jersey also benefits from nuclear power in many other ways. Salem and Hope Creek continue to set new standards for excellence by reinforcing the important role they play every day. In 2017, PSEG's nuclear fleet – Salem, Hope Creek and Peach Bottom – operated at a 93.9 percent capacity factor for the year and produced a record 31.8 terawatt-hours of electricity. This includes Hope Creek's first breaker-to-breaker run, when it ran nonstop for 517 consecutive days and set a new plant generation record of 10.6 terawatt-hours. These unprecedented achievements speak to nuclear power's position as the most reliable energy source.
Nuclear also plays a critical role in maintaining the diverse supply of fuels used to generate electricity in New Jersey and other states that belong to the PJM network. Fuel diversity contributes to the reliability, resiliency and affordability of the energy grid.
For PSEG, our nuclear plants are also about community. As the largest employer in Salem County and one of the largest employers in South Jersey, we help drive the local economy. The plants support 1,600 direct jobs plus an additional 1,000 contractors twice a year for scheduled refueling outages. Thousands of additional jobs are also supported by the $800 million in economic activity the plants generate each year.
Most importantly, our nuclear operations are about safety. Working with our regulators and industry peers, we continue to implement best practices that enhance our ongoing commitment to safe, event-free operations. Read our Nuclear Emergency Plan.
To learn more about our nuclear operations, visit our PSEG Nuclear LLC page.
Stewardship of our precious water resources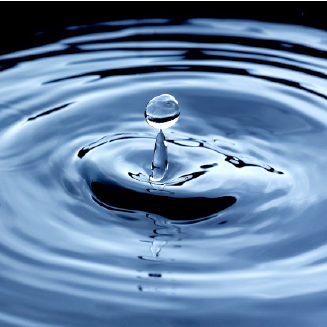 PSEG's power plant operations use water in a variety of ways – in steam turbines, for cooling in boilers and to reduce air emissions. Therefore, meeting water quality standards is an issue we confront daily. We have consistently worked to reduce the use of potable water at our plants and to economize our use of other water sources.
PSEG guidelines call for all of our power plants to ensure that they maintain the quality and quantity of water in both the intake and discharge processes. Our Salem cooling water intake uses the best-available technology to safely remove and return fish to the river. We also monitor pH and temperature of water that is returned to rivers; we are in compliance with state environmental quality permits. We also treat all water used for industrial purposes on-site and both our measured and reported water data are externally verified in several ways by federal and state regulatory agencies.
The generation technologies that PSEG Power uses have been evolving in recent years. As part of this evolution, PSEG has been retiring generation units that used river or estuarine water for once through cooling and replacing them with technology that includes closed-cycle cooling. This process continues with the 2017 retirement of the Hudson and Mercer coal-powered units in New Jersey, and the announced retirement of our Bridgeport unit in Connecticut in 2021.
New generation that became operational in 2018 in Sewaren, New Jersey, and at the Keys Energy Center in Prince George's County, Maryland, employs combined-cycle combustion technology with air-cooled condensers. These units are powered primarily by natural gas, with oil as a backup fuel. Use of water will be employed only as the steam driver for the heat-recovery boilers. The new unit under construction in Bridgeport, Connecticut employs similar technology.
In addition to discharges related to power generation, PSEG manages storm water at its outdoor locations. PSEG has designed and put in place systems to treat industrial wastewater, reduce the concentration of pollutants in discharges and reduce the potential for storm water to carry pollutants from its facilities.
Working to reduce water use footprint
PSEG has taken the following steps recently to reduce its water use footprint:
Several existing units in the PSEG fleet have minimized use of once through cooling water systems (which withdraw high volumes of water with relatively low water consumption rates, and also can affect local aquatic habitats) by using technologies such as closed-cycle cooling that repeatedly recycle water instead of releasing it immediately into local waterways (BEC, Bergen, Linden, Hope Creek).
The Bergen and Linden generating stations use an alternate source of cooling water from local POTWs recycled "gray water".
Recently built generating stations - Sewaren Unit 7, Keys Energy Center, and Bridgeport Harbor Unit 5 - all utilize air cooled condenser technology instead of evaporative cooling towers for the steam turbine generators, thus eliminating the need for makeup water for the main generating cycle. The new units employ highly efficient combined cycle technology. A limited amount of city water is used for makeup to the heat recovery steam generators and small auxiliary coolers.
In 2012, PSEG repowered water-cooled units at our Kearny plant and New Haven plant with simple cycle combustion turbine units that are air cooled and do not use cooling water.
Recent retirement of the Hudson and Mercer coal powered units in NJ and Sewaren 1-4 gas powered units that used local surface water for cooling.
Planned retirement of Bridgeport coal powered unit (Unit 3) in Connecticut in 2021.
Monitoring quality of water
PSEG complies with all aspects of the station's NPDES Discharge to Surface Water Permits and the discharge limits within those permits.
PSEG also implements treatment/processes to ensure the discharges remain below those regulatory limits and continuously works with regulatory agencies to commit to reductions in permit limits as requested by the agencies.

Examples include installing metals treatment technology at Linden Generating Station in 2016 to reduce metal concentrations in discharge and working with the state agency (NY DEC) to agree/commit to a lower limit for Total Residual Chlorine limit at Bethlehem Energy Center (BEC).
PSEG also has installed Manufactured Treatment Devices (MTDs), which are pre-fabricated stormwater treatment structures that utilize settling, filtration, and other technology to remove pollutants from stormwater runoff. These have been installed at Sewaren, Kearny and Bridgeport Harbor Station to assist in treating stormwater runoff from the sites and ensuring water quality best management practices are in place.
Options from a longer term point of view
New generation units including Sewaren 7, Keys Energy Center, and Bridgeport Harbor Unit 5 employ combined cycle combustion technology with air cooled condensers, removing the need for use of surface water or other sources of water for cooling. Minimal use of water is only employed as the steam driver for the heat recovery boilers and minor auxiliary cooling. The life expectancy of these plants is approximately 30 years, so these plants will continue to provide reduced demands on local water sources and reduced risk as it relates to water risk and drought scenarios.
Biodiversity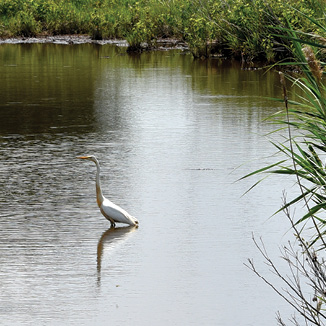 All along the southern shores of the Delaware River, colonial-era farmers built dikes to make land more suitable for agriculture. Conversion of these saltwater marshes was important to the colonial economy, but, centuries later, we also understand that the process destroyed breeding grounds for native fish, plants and wildlife.
PSEG's Estuary Enhancement Program was created in 1994 in cooperation with New Jersey's Department of Environmental Protection, and calls for PSEG to restore marshes and habitats that were altered long ago to grow salt hay and other crops.
The estuary enhancement program – which at 21,000 acres is the largest privately funded tidal marsh restoration project in U.S. history – is a prime example of PSEG's commitment to biodiversity in the communities we serve.
The estuary program includes sites along both sides of the Delaware River surrounding the Salem and Hope Creek nuclear generating stations, and farther south along Delaware Bay. As part of the program, PSEG also maintains fish migration ladders along more than a dozen Delaware River tributaries; monitors the river's fish population as far north as Trenton; and has made upgrades to fish-protection technology in the Salem plant's cooling-water intakes.
Today, the salt marshes once again are filled with grasses and algae that provide food and shelter for spawning fish, and habitats for many native birds and wildlife, including threatened and endangered species such as bald eagles, black rails and ospreys.
PSEG's commitment to natural resources extends to our impact on the land, as well.
As New Jersey's oldest and largest utility, PSE&G maintains nearly 1,000 miles of electric transmission rights-of-way, keeping trees and other vegetation well clear of lines so that power keeps flowing to the more than 2 million homes and businesses our company serves across the state.
While this work is essential, we are committed to carrying it out in the most environmentally sensitive way possible. There are more than 50 different threatened or endangered species of plants and animals known to be living along or adjacent to our transmission rights-of-way. Their presence means that we have to take great care about when and how we do this essential work so we don't conflict with the various life stages of these species.
For example, we have used specially equipped helicopters to change out aging towers in sensitive wetlands and parklands. Instead of relying on trucks, cranes and other heavy equipment, the helicopters safely transported equipment and new tower structures to the construction areas to minimize our impact on the environment. And after our work was complete, we restored the right of way to its former state, re-grading the ground, spreading new topsoil and planting native seeds.
Similarly, we have modified our maintenance activities to protect the nesting areas of the golden-winged warbler, a small migratory bird, and the frosted elfin, a butterfly native to North America. Working with wildlife experts, we have planted nectar sources and host plants like milkweed on our rights of way. We have installed "critter crossings" so that reptiles and amphibians could safely traverse our construction areas.
Our infrastructure is also home to eagles and osprey. Environmental specialists routinely assist the NJ Department of Environmental Protection with banding young eagles that are nesting on our towers. Working with the Hackensack Riverkeeper, employees have built nesting platforms at one of PSEG's generating stations to support the increasing osprey population.
We know our customers want safe and reliable electricity, and they expect us to protect the environment in the state we call home. We are working hard to do both.